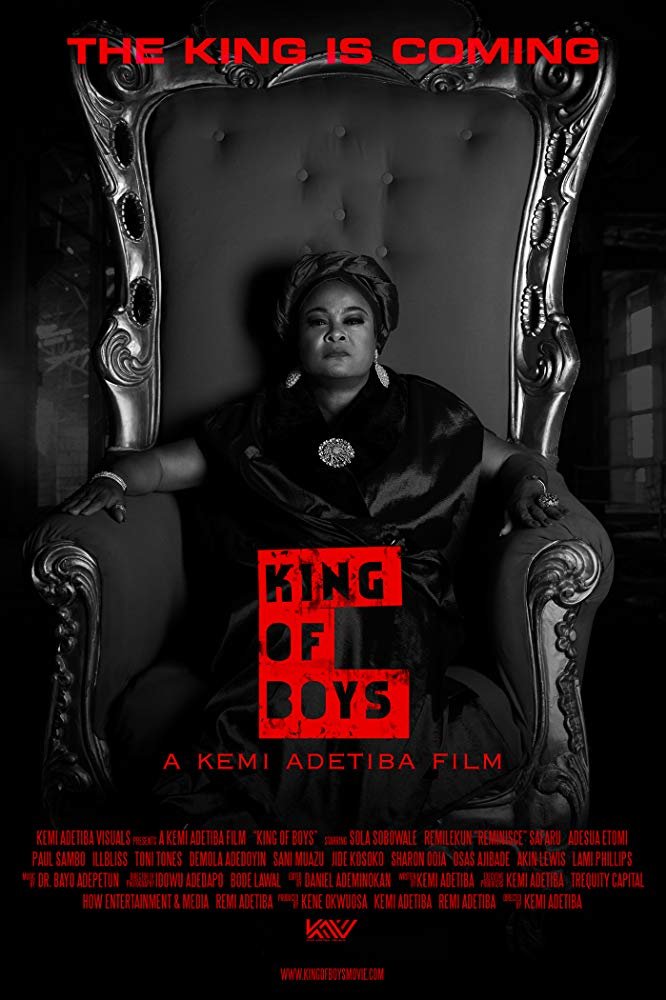 King of Boys Review. Warning (plenty spoilers)
Before we get into king of boys review, here's a public service announcement- I love Nigerian movies, there's no denying that I am a Nollywood fanatic and daily I find myself in positions where I have to defend my love for Nigerian movies to fellow Nigerians who don't see any good in the Nigerian film industry but today I announce to all them doubting Thomases of the Nigerian Film industry, before you come whining about the Nigerian film industry, have you watched Kemi Adetiba's King of Boys?.
King of Boys Movie
King of boys by Kemi Adetiba is her second debut as a feature film director. This film was written and directed by Kemi Adetiba. It features a star but yet not-so-star-studded cast. The cast includes Sola Sobowale, Adesua Etomi-Wellington, Toni Tones, Paul Gambo, Jide Kosoko, reminisce, Illbliss Goretti, Sharon Oja amongst others. I say Star but yet not-so- star-studded cast because although reminisce and Illbliss are stars in the music industry, this was their acting debut.
In reviewing this movie, I will examine the following;
The Storyline/plot
Cinematography/music
Costume/ set design
Acting: casting and delivery
Directing
Storyline/Plot of King of Boys by Kemi Adetiba
A notorious matriarch who is referred to as the king of the underworld is faced with challenges as the political party she sponsored have reneged on their promises to make her a minister. Shaken by this betrayal, she nonchalantly answers one of her underlings(Makanaki) when he calls to inform her of a mission and this orchestrates a string of events that leads to her "downfall" including a plot to overthrow her, murder of her children and a political witch-hunt.
What I thinks of the storyline
The story is actually quite simple but the way the story is told made all the difference. When I first watched the trailer, I surmised that this movie would be a crime-action thriller filled with violence and power play. I wasn't wrong but I wasn't right either. This movie is much more than that. I'll classify it as a social satire, a tastefully written satire on societal issues; largely politics & religion. Kemi Adetiba successfully weaved a lot of social issues into one film from domestic violence, to dysfunctional family issues, to corruption, politics, godfatherism, religion, gender equality and criminality.
The plot was good, a non-sequential plot that moved with gradual progression although at a point it was dragged. I for one love the juxtaposition of the past and present and the smooth transition from each to the other further fueled my love for this movie. Adetiba definitely showed us she's one to look out for when it comes to scriptwriting.
Cinematography and music.
The choices of music used in king of boys were well thought out. The transition from one tune to another was smooth. There was a balance between background music and clarity of actor's voice. Cinematography was amazing as well. I especially loved the aerial shot of Eniola Salami's house as her screams filled the air during the announcement of the death of her son Kitan. Picture quality was crisp clear, colouring was good as well. I feel like some shots could have been repositioned better though. The very first roundtable meeting, more close up shots would have been lovely, would have let us have a more graphic picture of the intensity and tension that grappled that roundtable meeting.
Costume/makeup and set design
If I could give a standing ovation to a crew member it would definitely be for the costume designer. The costumes were perfect. That's the only way I can describe it. Yolanda Okereke did a terrific job as the costume designer for king of boys movie. I don't think I can do justice to the amazing costumes she created via words. So I advice you all to go see this movie and see for yourself what a badass costumier Yolanda Okereke is. Makeup in king of boys movie was good, portrayed believability, nothing over the top, all looks were tastefully created.
For set designing and location I didn't see anything too stunning save for the location of the roundtable meeting. Now that was one location I enjoyed seeing.
Acting/casting and delivery
Sola Sobowale role as Eniola Salami
was astounding. Sola Sobowale as Eniola the king of boys, as Eniola the business woman, as Eniola the mother, as Eniola the politician, as a bereaved Eniola. Her characterization in each of these was believable and tastefully delivered. She owned this movie, she is the king of this movie!
Adesua Etomi-Wellington
has never being one of my favourite actresses. I love her as a person but when it comes to acting, I got tired of always seeing her as the "damsel in distress". She became largely stereotyped and I for one was disappointed because she has a first class degree in Drama and performing arts and so I yearned to see her play a role that isn't what directors are stereotyping her into and I got what I yearned for.
Adesua Etomi as Kemi Salami

in king of boys was an interesting character to watch.
She was mostly the smooth, composed daughter of the king. Communicating with her mother in silent tones yet being her rock and right hand man who could pull off a gangster stunt or two just like her mother. We can sum up and say Kemi was the true child of her mother.
Reminisce as Makanaki
, I dare say there was no better fit for this role.
He was GOOD!! Oh so good he gave me goosebumps.
Illbliss as Odogwu
was another character that unexpectedly delivered flawlessly.
With the combination of Makanaki and Odogwu, Kemi Adetiba gave us a powerhouse. I couldn't stop remembering the days of
J.T Tom west and Hanks Anuku,
the "nollywood badboys" as I watched Makanaki and Odogwu. The badboys I couldn't help but love!
Paul Gambo
, I have never taken note of him until this movie and he happened to be one of my favourite actor in this movie. His acting was consistent, concise and tasteful.
Toni Tones
as young Eniola Salami. I only have one question, Toni where have you been all my life! Ah she was good. Playing a younger version of a character in a film requires grit, observance, dedication and balance.
At a point I enjoyed
Toni more as the king of boys.
Yes she was that good!
The acting generally in king of boys deserves a standing ovation
. I for one believed that the formidable actors are responsible for us sitting down for 3 hours without walking out of the movie theater in anger at the unbelievable run time Kemi Adetiba gave us and speaking of which, let's talk about directing.
Directing in King of Boys
If anyone ever had any doubt about women as directors in the Nigerian film industry,
Kemi Adetiba just gave them double assurance
. I'll give Kemi an 10/10 without even sweating it. However, there are some issues. One being the unbelievable length time, aunty Kemi, were you trying to give Guinness book of records a run for their money? 3 hours is an unbelievably long time and while I would love to say the movie is totally worth it, I'll love to put into consideration the fact that as a Lagos hustler, every second counts and dedicating 3 hours to see a movie must be a definite pain. To be honest I think max 2:30 minutes should have been long enough for this movie because some scenes were dragged starting from the party scene.
I am also awfully disappointed that when the time came for Kemi to prove herself as a true child of her mother, she faltered. The court case, does it mean if Makanaki didn't kidnap judge Nwachukwu's family, Eniola would have remained in prison?. Let's also talk about how we never saw the "parcel for your troubles" mother and daughter discussed for the detective. While I understand they were used to mislead the audience as Adetiba prepared her final blow, I believe those loose ends should have been tied in one way or another. Other than these, Kemi's directing in King of Boys was top-notch. I especially loved the scene where Eniola came face-to-face with the ghosts of her past. Such a powerful scene, I cried!
Final thoughts
Kemi Adetiba I can't express enough gratitude for this movie. I believe you just set a new path for the Nigerian film industry with Kob. I am hoping the success of this movie would give movie producers the idea that there are other genres other than poorly interpreted comedies that will do well in the box office.
But Kemi, it's been ages since I saw a Nigerian film end in such a mind-blowing manner. Hmm, Jesus is indeed Lord.
Look if you haven't seen king of boys, I'll advice you ignore all the spoilers in this king of boys review and go see this movie because it's a must watch.
Image credit @kemiadetiba on Instagram.
Have you seen the movie, what are your thoughts?
King Of Boys Movie Review| Kemi Adetiba Has Started A Revolution & We Are Here For This.
Reviewed by
Adebanjo Shegun
on
November 19, 2018
Rating: